We are proud to announce that Jensen Hughes has been approved by the High Commission for Industrial Security (HCIS) as a Fire Protection Consultant for the Kingdom of Saudi Arabia. The approval recognizes Jensen Hughes as a provider of Safety and Fire Protection Consultancy Services to companies and organizations under the supervision of the High Commission for Industrial Security, Ministry of Interior.
As an HCIS licensed and registered fire protection consultant, Jensen Hughes can support clients across various sectors, providing the following services (according to Section: 6.3 of HCIS / SAF-01 Directive (2017 Edition)):
Implementing building codes, NFPA standards, etc.
Fire Hazard Analysis.
Development of Engineering Design Packages.
Approval of Contractors' shop drawings for compliance with the codes, standards and bid documents.
Troubleshooting during construction/installation.
Participating in the commissioning of fire protection systems.
The HCIS provides guidance and oversight to various sectors, including petroleum, electricity, petrochemical, water, industrial services, communications, mining, gas, civil explosives, chemical manufacturing, metal manufacturing and ports.
Jensen Hughes Saudi Arabia is one of the few international firms to hold multiple licenses and approvals in the Kingdom. Under these licenses and approvals, we provide fire protection consulting and engineering supported by a current staff of more than 100 full-time employees in the Middle East and 1500+ worldwide.
Our approvals and licenses include the following:
Saudi General Directorate of Civil Defence (GDCD), Salamah Approved Technical + Engineering Firm.
High Commission for Industrial Security (HCIS), Ministry of the Interior.
Saudi Council of Engineers, Ministry of Commerce and Investment, Fire Protection License.
Saudi Authority for Industrial Cities and Technology Zones, Modon Approved Safety and Security Consultancy.
HCIS (High Commission for Industrial Security)

HCIS SAF Workflow (SAF 2017)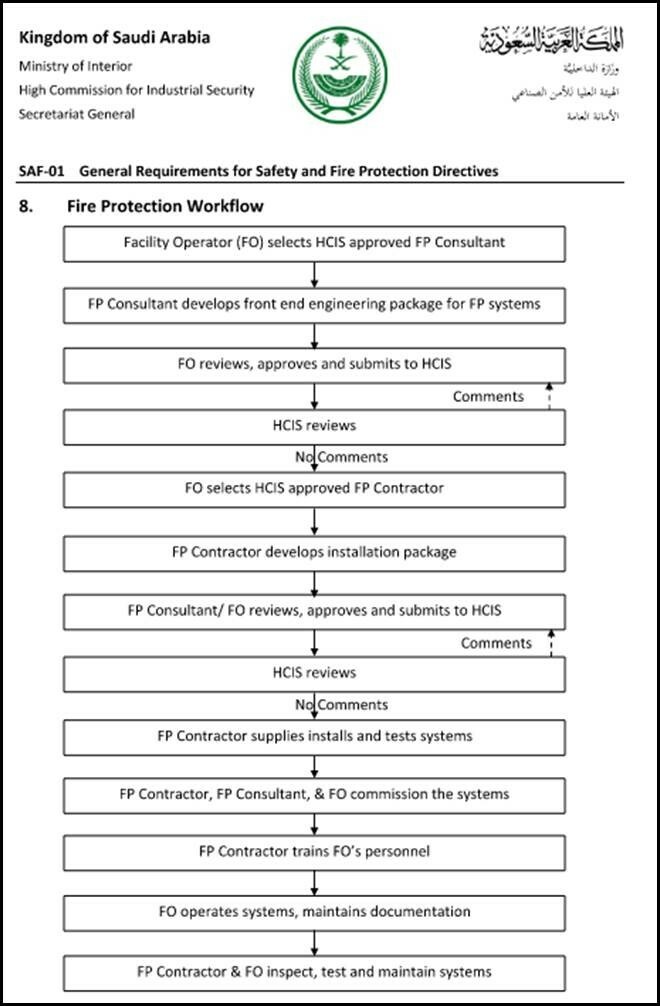 Contact Details:
Jensen Hughes, Saudi Arabia Office
Al Jazeera Building, Office 311, 3688 King Abdullah Rd., Al Aqrabiyah District, Al Khobar 34446-6251, Saudi Arabia
MUHAMMED HASSAN MUSA
Business Development Manager
Email: Muhammed.Musa@jensenhughes.com
Office: +966 13-840-0738 | Mobile: +966 54-342-8583